Mt. Kilimanjaro 6-Day Umbwe Route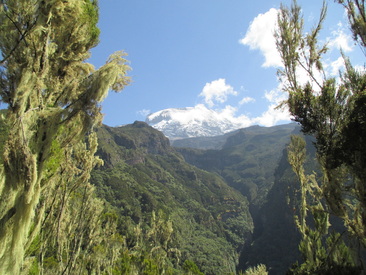 If you are a risk-taker, Kilimanjaro's Umbwe route is the one for you. Due to its rapid gain in altitude the first two days, it is one of the toughest and riskiest Kilimanjaro routes. Climbers are rewarded with rare and stunning views, fewer people, and shorter distances. Plus, you will enjoy seeing the surprised look on the faces of locals when you tell them that you ascended via the Umbwe route. This route traditionally joined the Western Breach route to the summit, but due to recent rockfalls and dangers on the Western Breach, our Umbwe route meets up with the Machame and Lemosho routes at Barranco Camp.


---
Day zero: Arrive in Tanzania. Our Samba Treks representative will greet you at the airport and drive you to the hotel.

Day one: Umbwe Gate to Bivouac Camp (5 hrs): Enjoy a complimentary breakfast at the hotel and check out of your room. The hotel will securely store the belongings you do not wish to bring on your climb. At approximately 8:00 a.m., our head guide will meet you in the hotel lobby for orientation and gear check. After this, we will depart for Umbwe Gate (5,905 ft.), where your guides and porters will prepare your team's equipment and supplies. After registration, you will begin your ascent from the Umbwe Gate, along a narrow road, to the Umbwe Trail. Your team will ascend through the lush rainforest, after which the trail will narrow and steepen as you climb along a ridge between the Lonzo and Umbwe rivers. When you arrive at Bivouac Camp (9,645 ft), you will be greeted by your smiling porters. Your bags will be waiting for you in your tents, and your team can settle into the dining tent for popcorn and hot tea, followed by a delicious dinner. During this time, your head guide will brief your team on the next day's trek.

Day two: Bivouac Camp to Barranco Camp (6 hrs): After packing your gear, washing with a pan of warm water (provided for you), and eating a hearty breakfast, your team will begin the trek to Barranco Camp (13,077 ft). Shortly after leaving camp, the trail will exit the rainforest and enter rocky terrain, as you continue along a narrow, but gorgeous ridge. Here, you will see your first view of Uhuru Peak (if it is not obscured by clouds). You will scramble over numerous rocks and test your endurance as you ascend almost 4,000 feet. The path eventually resembles desert-like terrain, where you will move through an area speckled with odd-looking Senecio Plants, to Barranco Camp (13,077 ft) at the base of the great Barranco Wall.

Day three: Barranco Valley Camp to Karanga Valley Camp (5 km): Following breakfast, your team will follow a path up the steep Barranco Wall. This will involve minor scrambling, and will take approximately 90 minutes, depending on climbing traffic and the speed of your group. After taking a short break at the top of the wall (13,842 ft), your team will begin its slight descent to the rocky Karanga Valley Camp, at 13,235ft.

Day four-five: Karanga Valley Camp to Barafu Camp (3 km): While the trek on this day is shorter, it is a steady incline, along a barren, rocky landscape. Barafu Camp (15,295 ft) sits at the top of a steep incline that will challenge its climbers. You may feel humbled as you see porters climbing back down this steep hill to retrieve water from the stream below, so that their climbers will have drinking water. You will eat an early dinner and try to get a few hours of sleep before you are woken up around 11 p.m.

SUMMIT: At approximately 11:30 p.m., your team will gather in the dining tent for tea and cookies and a pre-summit briefing by the head guide. We will begin our summit attempt at midnight. Walking slowly in single file, you will follow the snaking trail of headlamps up the mountain, occasionally scrambling over rocks. The final push to the crater rim and Stella Point will take you up a slope of heavy scree. This is the most mentally and physically challenging part of your trek.

At Stella Point (18,600 ft), you will stop for a short rest and will be rewarded with a stunning sunrise (weather permitting). From Stella Point, you will walk beside spectacular glaciers, during the 1-hour ascent to the summit. At Uhuru Peak, you have reached the highest point on Mount Kilimanjaro and the continent of Africa!

From the summit, your team will begin its challenging descent to Barafu Camp, where you will eat and rest for a few hours before continuing down to Mweka Camp. Here, you will enjoy your last dinner with your team and celebrate your success on the mountain.

Day six: Following breakfast, your team will make its final descent through the forest, to the park. Here, you will be awarded certificates and you can thank your porters and donate any equipment, if desired. Your transportation will be waiting to take your team the hotel for much deserved hot showers.