Deuteronomy 24:14-15 Do not take advantage of a hired worker who is poor and needy, whether he is a fellow countryman or a foreigner residing in one of your towns. Pay them their wages each day before sunset, because they are poor and are counting on it.

Kilimanjaro porters are often fed only one meal a day, and paid less than $5 per day. They often have to bribe guides to choose them at the gate by sacrificing some of their pay. They climb in extreme weather, wearing inadequate gear, and sleep without blankets or sleeping bags. They are often paid late or not at all, and many porters never see the full tips intended for them. Samba Treks adheres to the following guidelines:


Wages--The Kilimanjaro National Park and the Tanzania Association of Tour Operators have agreed upon 8,000 Tsh/day for all porters. Samba Treks doubles this amount.

Load will not exceed 25 kilos – Porters can carry 20 kg for the company and 5 kg of their own gear. To lighten the loads for our porters and employ more people, Samba Treks customers trekking alone will be accompanied by four porters, instead of three.

Porters will receive the full amount of tip intended for them – Samba Treks enforces a transparent tipping procedure, in which each crew member receives his/her tips directly from the climbers.

Porters have proper shelter and sleeping equipment – Each Kilimanjaro porter is required to have a sleeping bag in good condition and adequate shelter for sleeping.

Porters are given adequate food and water – Porters will be given access to water and at least two substantial meals per day.
Samba Treks porters are fed three meals per day.

Number of crew will stay consistent throughout the climb

Proper care for sick or injured porters – all sick or injured porters will be given the same medical attention as the climbers. No porter will be sent back down the mountain alone.

Tipping Guidelines: Tipping is a customary practice on Mt. Kilimanjaro climbs, and the staff relies upon these tips to supplement their salaries. Each climber is asked to reserve $250 to $300 for tipping their staff. While some Kilimanjaro climbing companies prefer that tips be given to the head guide for distribution, Samba Treks encourages climbers to give their tips directly to the porters and staff on the last night of the trek. By doing this, they can personally thank each porter and staff member. This provides a memorable experience for both the staff and the climbers.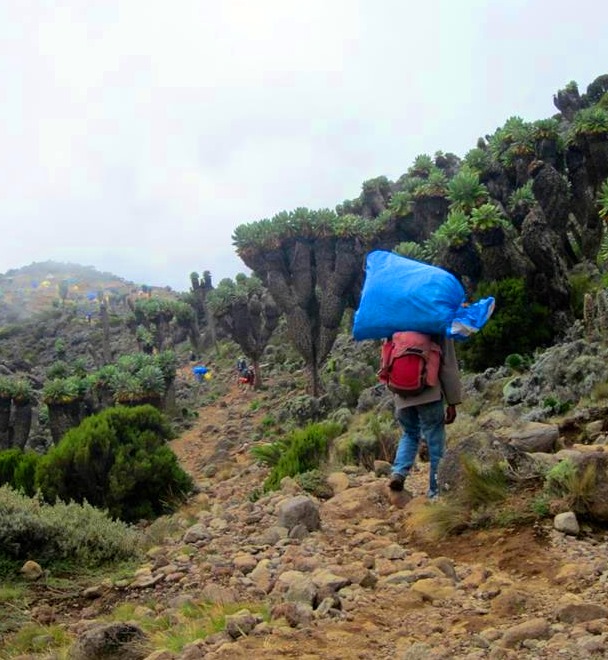 My guide was a polite as Lord Chesterfield and as kindly as the finest gentlemen of the world could be. So I owe much to the bare footed natives of this country, who patiently for eight cents a day bear ... the burden.

Peter MacQueen, In Wildest Africa (1910)