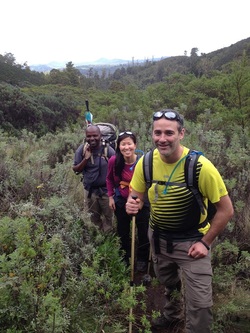 You must be in the best shape of your life to climb Mt. Kilimanjaro
. It is not a technical climb, but it is extremely challenging. Not many tour operators will tell you this, but summit night is GRUELING and it will test you, physically, spiritually, and mentally. While trekking along any of the routes, you will easily spot the climbers who are out of shape. They are the ones who fall behind the rest, look miserable, and arrive at each camp much later than everyone else. They are the ones you worry about. Yes, altitude sickness can affect anyone, at any age and every fitness level, but those who attempt to summit Kilimanjaro without proper training are placing themselves in grave danger. It's true that you will be walking very slowly, but most of this is uphill, over uneven terrain, with less oxygen than you are used to. Add to this a pounding headache and nausea.
You will not enjoy your experience if you are out of shape.
Kilimanjaro Training Plan
First, you must visit your doctor to ensure that you are in good health and able to begin a training program. To maximize your fitness, you should incorporate the following:
You should hike at least once a week, beginning 12-16 weeks before your Kilimanjaro climb, wearing the pack and boots that you plan to use in Tanzania. Increase your hike each week until you are hiking 8-10 miles comfortably, incorporating hills and uneven terrain as much as possible. If hiking is not possible, use a stairmaster or treadmill at the gym and select a hill setting. If you cannot go to the gym, find a lot of stairs.


You must include aerobic training to strengthen your heart and lungs and improve your VO2 max (the maximum amount of oxygen, in milliliters, your body can use in one minute). To improve aerobic fitness, exercise at 70 to 80 percent of your maximum heart rate (defined as 220 minus your age), for at least 30 minutes three times per week. Find a good 10K training plan or download an app to make your exercise more fun and consistent.


Incorporate strength training for all of your muscle groups at least three times a week, with emphasis on legs and core body strength. You will need this extra strength to keep you going on summit night. The descent is painful if you are not in good shape.


If you do all of this and come to Kilimanjaro in excellent shape, you will enjoy every minute of your trek, including summit night – when you will experience the brightest stars, the most breathtaking sunrise, and the most stunning glaciers that you have ever seen.
---